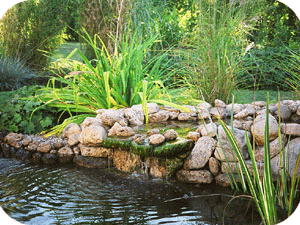 pond with waterfall-installation
It is so pleasant to explore nature and oneself at the same time, neither to force nature nor the own spirit, but bringing both into balance in gentle, mutual interaction.
Johann Wolfgang von Goethe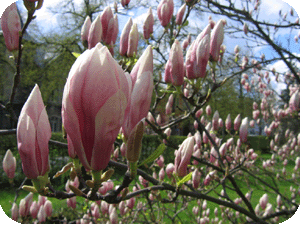 Landscape-feng shui and TAO-garden design
We live in an active, often hectic world. For this reason, we need places to which we can retreat in order to rest and relax
A vital garden in the Feng Shui style offers an inspiring and relaxing environment! Colours, forms and elements are tuned to one another and integrated into the existing landscape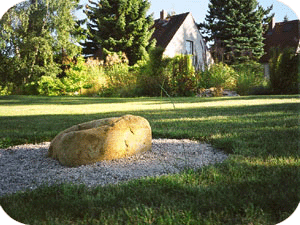 Heart point (Omphalos) in a private house garden
An harmonically designed garden supports the individual needs of the user and reinforces the effects of any correctional or remedial measures which have taken form within the building
Feeling well and improving the life energy in one's space through a vitally designed Feng Shui garden.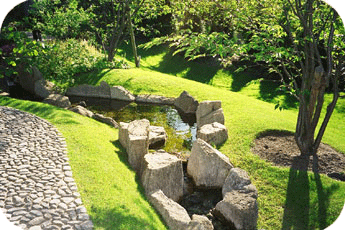 TAO/ZEN-garden
We will acquaint you with how positive garden arrangements in Feng Shui can have a direct influence upon house and family
We introduce methods with which one can produce a garden landscape indoors or on a balcony. Miniature gardens and Bonsai have an long-standing tradition in Asia as methods for producing space in a room and , through their appearance, for calming the spirit and bringing inspiration
Bring the openness and enjoyment of a landscape into your space!
Our services:
Tao/Zen, western garden design, miniature and Bonsai gardens, roof gardens, rock gardens, herb spirals, herb gardens, landscape gardens and parks, water and wild gardens etc.
Harmonious, inspiring garden suggestions according to the landscape and shape of the land.
Creating balance between yin and yang in a garden for vitality and harmony.
Professional planning for water ways (streams, ponds, waterfalls, etc.) for luck and prosperity
Defining and activating power points in a garden like Omphalos, genius loci, etc. These energetically high frequency areas are connected to the 'consciousness' of the living- space, so that all the occupants and plants can profit from the vital energy of the garden.
Vital fountain design
Sculptures, pagoda lamps, and other vital/ harmonious objects for active and decorative purposes; for outdoors and indoors; produced by us out of wood and stone!