Vital building - Humans are a part of nature.
Bring vitality and dynamic into your business, attract prosperity and success!

For free information

what is Vital-Energi™ Design?

Qi-Mag® Feng Shui is, with regard to the structures and cultures of countries, a system that functions worldwide, analysing places, forms, designs, objects and symbols whose essences can be used in the design places of work and residence.

It is non-dogmatic and can be used for all designs!

It is the language of and between the materials and the details of design. It reveals to us the liveliness, power and energies that are integral to places, forms, architecture and design.

This knowledge is used by many leading firms such as Siemens, Bosch, Hyatt Hotels, Shangri-la Hotel group, Hong Kong Bank, Bayerische Vereins Bank, Marks and Spencer and many more…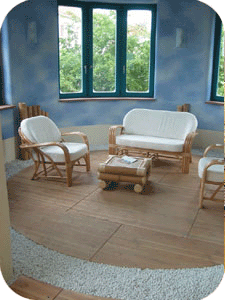 In times of tough competition, the optimal positioning and use of resources is important.

We integrate eastern and western knowledge into a holistic concept for living space that does not separate us from nature but allows us to take our place within it!

Through simple methods, the vitality, productivity and motivation of employees can be increased. Through these changes, the position and decisions of management are supported We pay close attention to the energetic problems in most large offices that lead to lack of communication, burn out syndromes, mobbing and other office related disturbances

A general improvement of the atmosphere and coordination in the workplace through a vital architectural design and optimal work-space design, are further advantages of a holistic business and design consultation
You can help ensure the success of your business!
Older buildings can also be positively improved through an holistic business and design consultation. With consideration of your individual goals, we will integrate our ideas with your business profile. We work closely with highly trained and experienced professional business advisors.
There is always a solution!
...we find solutions!
Problems with interiors and exteriors which influence the business.
Advantageous spacing and seating plans for effective management
Correct seating for conferences, meetings and lectures
How one can be the boss when one is not the Boss
Where one should sit in order to get promoted quicker
the best position for optimal meditation and selling success
The best placement of cashier and reception for higher profits
Proper decoration and placement of entry ways in order to attract more customers
Choosing land with strong land energy as a business location
The principle of the five elements and colour combinations in the office in order to increase productivity and creativity
The proper design for more vitality
How you can protect yourself and your co-workers from geopathologic stress and electro-smog
Techniques and principles for effective logos, which can promote success and long life in a business
Good and comfortable furnishings in office spaces
The proper seating for therapists and doctors for effective consultations